As a distributor of Rockfon's acoustic stone wool ceiling panels, we are dedicated to enhancing learning environments with innovative and high-performance solutions.
From optimizing acoustics and reducing glare to supporting indoor air quality and sustainability, Rockfon's products have proven to be instrumental in creating conducive educational spaces. With a range of tailored solutions for different areas, Rockfon ensures that every space at Wylie Campus is designed to maximize student success and well-being. Partnering with Rockfon, we are proud to offer products that prioritize occupant wellness and contribute to the overall excellence of educational environments.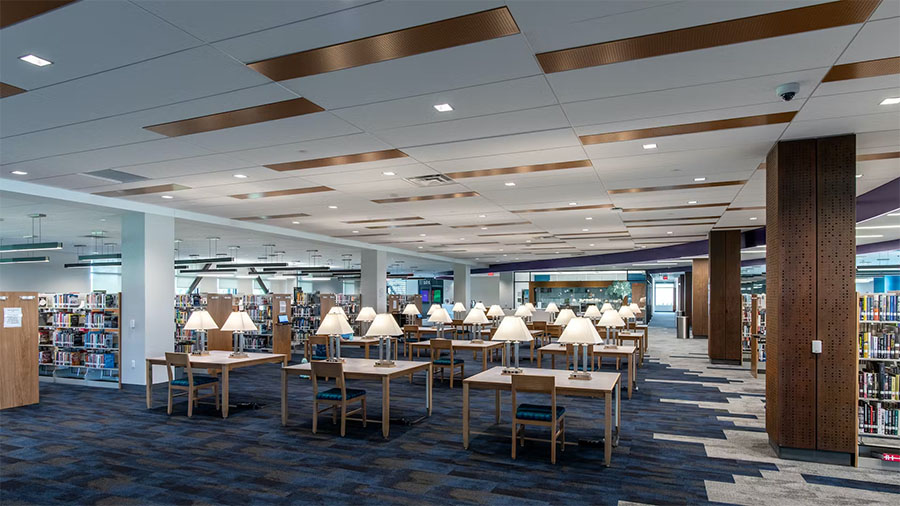 Superior Acoustics for Enhanced Learning
Rockfon's sound-absorbing ceiling panels have proven to be instrumental in optimizing acoustics, significantly reducing noise levels and enhancing the overall learning experience at Wylie Campus. The acoustic stone wool ceiling panels from Rockfon offer a high level of sound absorption, resulting in a more focused and productive educational environment. The Alaska acoustic stone wool ceiling panels, chosen extensively for installation across all three buildings, boast an impressive noise reduction coefficient (NRC) of 0.90. This exceptional sound absorption capability minimizes distractions, allowing students and teachers to communicate effectively and concentrate on their work.
Minimized Glare and Eye Strain
In addition to their acoustic properties, Rockfon's white stone wool panels effectively minimize glare on screens and monitors. The reflected and diffused light from these panels helps reduce eye strain and associated headaches, creating a comfortable learning environment. With Rockfon's panels, Wylie Campus ensures that students and faculty can engage in their activities without discomfort, promoting better focus and productivity.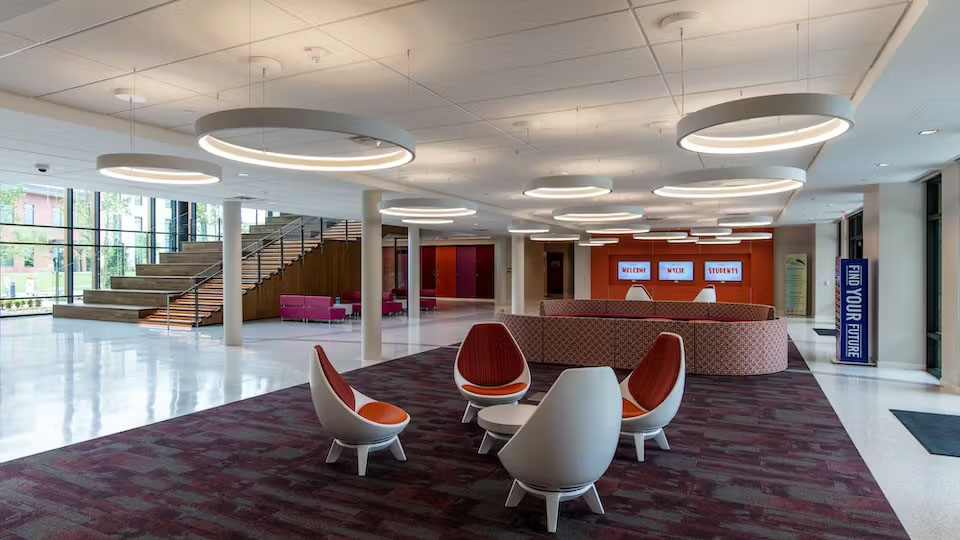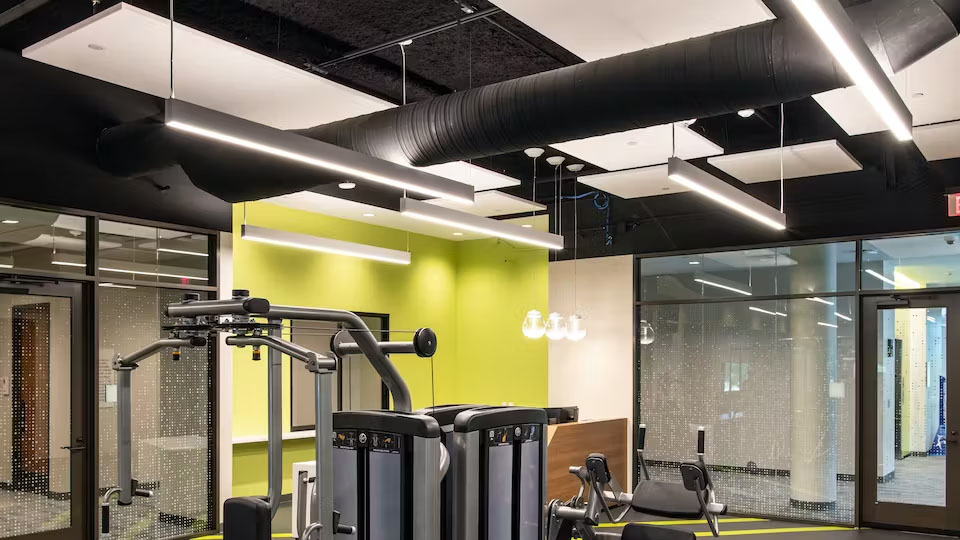 Commitment to Indoor Air Quality
At Wylie Campus, the well-being of occupants is a top priority. That's why all the stone wool ceiling products selected from Rockfon are UL® GREENGUARD® Gold Certified for low emissions. This stringent certification recognizes Rockfon's commitment to supporting indoor air quality, which contributes to healthier interiors in educational environments. As a proud distributor of Rockfon products, we share this commitment and are proud to offer solutions that prioritize the health and well-being of students and staff.
Unmatched Performance and Sustainability
Rockfon Alaska acoustic stone wool ceiling panels, with their smooth, white surface, not only offer superior sound absorption but also reflect 86% of light, carrying outside natural light deeper into the building's interior core. This dual functionality reduces the need for artificial lighting, creating an energy-efficient and visually pleasing learning environment. Additionally, Rockfon Alaska is supported by an Environmental Product Declaration (EPD), Health Product Declaration (HPD), and Declare Label, providing design teams with additional assurance when creating healthy, safe, and sustainable spaces.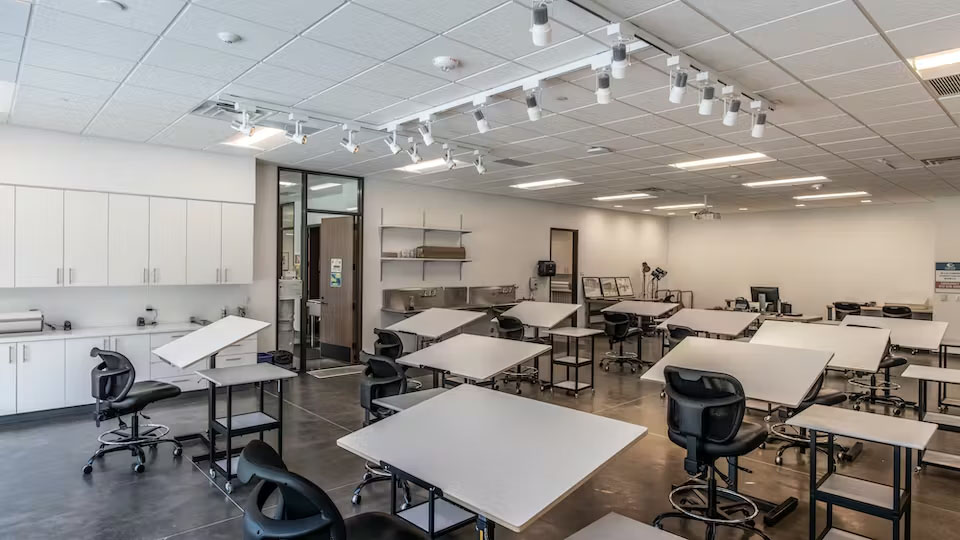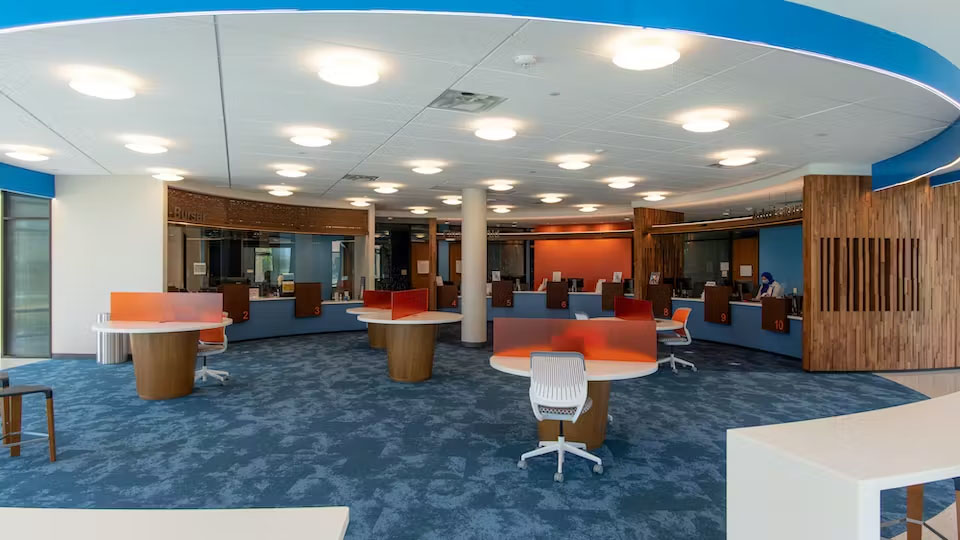 Tailored Solutions for Every Space
Understanding the unique requirements of different spaces, Rockfon offers a range of products to ensure a perfect fit. For smaller, enclosed rooms, the Rockfon Artic acoustic stone wool ceiling panels are the ideal choice. These panels, available in basic white and 2-by-2-foot sizes with square tegular edges, provide both visual appeal and sound absorption capabilities. With an NRC of 0.75 and 85% light reflectance, the Rockfon Artic panels strike a perfect balance, ensuring a tranquil environment while maximizing natural light.
Rockfon Hygienic Plus panels have proved invaluable in meeting multiple performance requirements in the student center's kitchen. These panels offer high light reflectance, excellent sound absorption, low particle emissions, Class A fire performance, cleanability, and durability, ensuring a safe and functional space for students and staff.
Seamless Installation with Modular Sizing
Rockfon's commitment to providing versatile solutions is further evident in their modular sizing, which facilitates easy installation. The modular sizes of Rockfon Hygienic, Alaska, and Artic ceiling panels perfectly complement Chicago Metallic suspension systems, offering a seamless and efficient installation process. From the library, where the narrower, exposed grid of the Chicago Metallic 4000 Tempra 9/16-inch is utilized, to rooms with open plenums where Rockfon Islands in 4-by-4 and 4-by-8-foot sizes are directly suspended, Rockfon's products provide flexibility and optimized acoustics.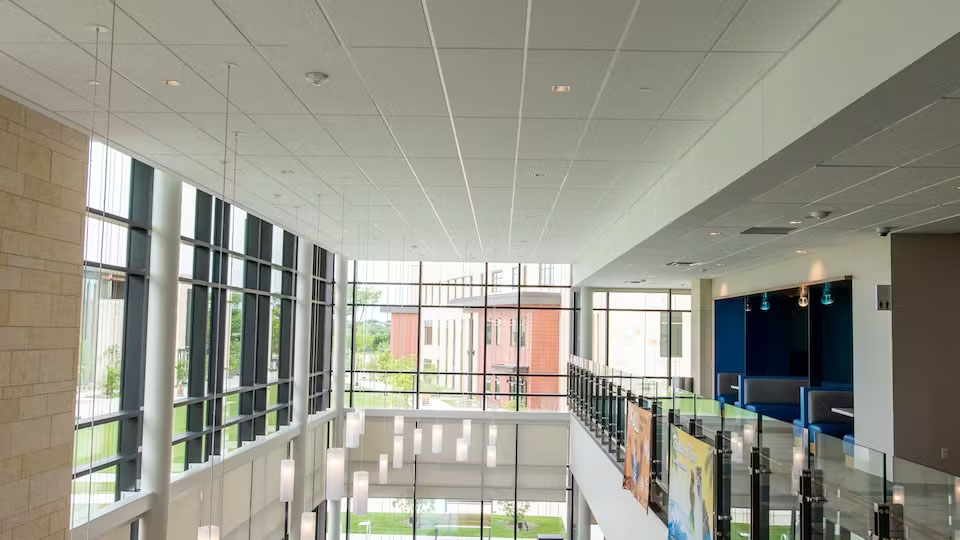 CG Schmitt & Company Inc. is an architectural products manufacturer's representative sales agency and distributor. We've helped architects, designers, and contractors achieve their design and development's functional and aesthetic objectives since 1994. We provide architectural, interior, and speciality finishes for our clients. Whether you want to discover more about a product or assist in making your design a reality, we are here to assist you. Choose to meet us in person or online, and we will help you in choosing the right product and make your design a reality.
Related posts